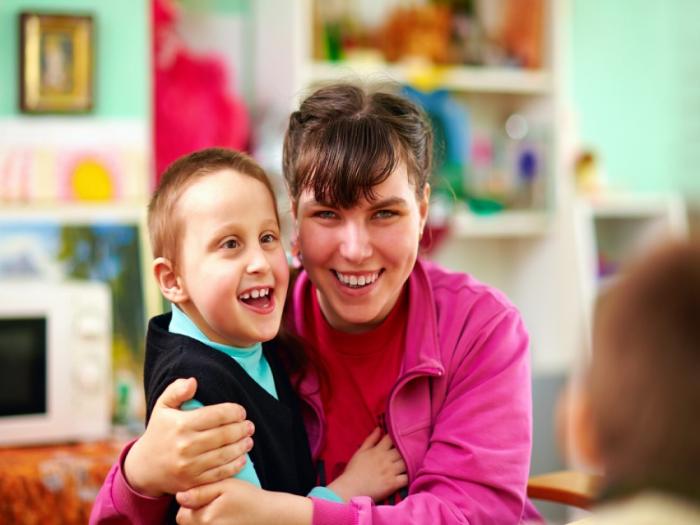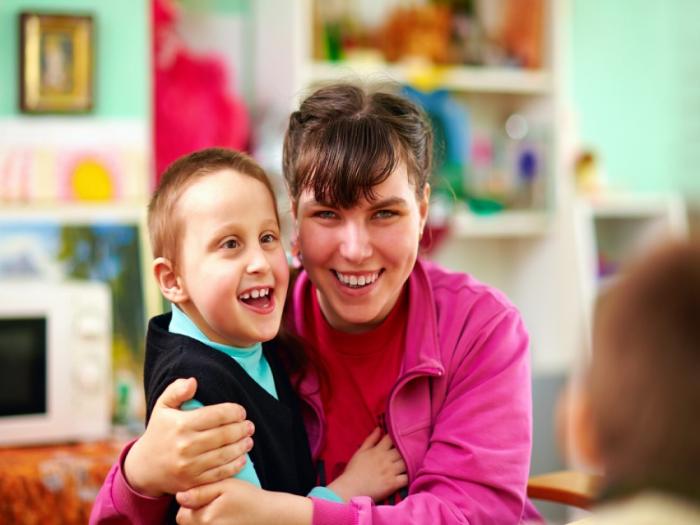 Special Education Teacher
People who enjoy helping special needs children or adults who have physical or mental disabilities may enjoy a rewarding career as special education teachers. These professionals are not only tasked with teaching special needs students, they also have to work with families, case workers and school administrators to develop lessons that accommodate their students learning styles and limitations.
%%linkad1%%
Special education teachers must teach their students practical life skills in addition to curriculum-based subjects. Special needs students are often unable to completely function on their own without the assistance of others. Many students learn valuable skills from their special education instructors so they can become more independent on their own and in society.
Special Education Teaching Requirements
To become a special education teacher, one must have at minimum a bachelor's degree. Ideally, students should major in elementary or special education. However, students that major in an academic, such as mathematics or English are able to become special education educators.
Individuals who already have a bachelor's degree in another major but are interested in special ed careers may do so. But they will need to get a certificate before they can become professionals in the field. Some states require special education teachers to have their master's degree before they can begin instructing special needs children and adults. Many private education intuitions do not require special education teachers to have anything other than experience and a degree.
In addition to having a degree, individuals must be able to successfully pass a criminal background check at the city, state and government levels. Potential special education instructors should also be kind, considerate, honest, dependable, and open minded.
Special Education Teacher Skills
To be successful in the special education field, professional instructors need to have certain skills. These following skills enable them to understand, communicate and educate their students effectively.
Exceptional Communication Skills: Special education students use a variety of verbal and nonverbal behaviors to communicate with others. Teachers need to be able to identify the needs and wants of their students in addition to the meanings behind their body language, gestures, and facial expressions. Potential instructors should consider taking an American Sign Language course to be able to communicate and teach students who are unable to speak or communicate clearly. Instructors should also be able to recognize when their students are experiencing emergencies or in distress.
Flexibility: Professionals in the field need to be extremely flexible and able to adapt to any scenario. They must be able to change from one teaching style or methodology. They also need to be prepared to implement new lesson plans to accommodate the different learning needs of their students.
Empathy: Teachers need to be able to see and understand things from their students perspective. Once they understand how their students think, communicate and learn, they can tailor their teachings to help them meet their students learning goals.
Mediation: Special education students are easily frustrated when they have trouble with mobility, communicating, understanding or participating in the classroom. Prospective special education teachers must know how to recognize when their students are upset to diffuse tense and stressful situations while ensuring that all classwork remains easily accessible to others.
Innovation: Special needs children often experience challenges when it comes to communicating and learning. They are not always able to use normal learning tools and equipment like other students. Teachers must be able to think on their feet to develop and implement innovative teaching methodologies, lessons and equipment that are easy to use to benefit their students.
Special Education Teacher Programs
Potential special education teaching students should examine their options before applying to any programs. They should research all education and licensing requirements for the state in which they want to work. They should also make sure that any schools they are interested in provides the right training and hands-on teaching experience they need.
On average, its takes special education bachelor's degree students approximately four to five years to earn their degree. This time frame varies depending on the area of specialization (elementary, middle school or high school) and the type of special needs students they want to work with (mild or severe disability).
Bachelor's Degree in Special Education
During their bachelor's degree studies, students can expect to learn about the psychological and physical aspects of child and adult disabilities. They will develop the ability to work with disabled people who have mild to severe degrees of disabilities, disorders and learning abilities that are often seen in special needs and education students. Bachelor's degree students will also develop skills that enable them to create curricula and lessons while working with education policies, procedures, technology, parents and communities.
Courses students could expect to take include:
Psychology 101: This course is a requirement for many schools. It provides potential special education teachers with an introductory look at the human psyche and different psychological disorders, so they are better equipped to understand and communicate with their students. Upon completion, potential instructors should be able to influence the memory recollection, retention, learning and psychological patterns of their disabled students.
Instructional Classroom Technology: Potential special education professionals learn about the many different types of special educational software and teaching equipment that is available to aid them in their teaching endeavors.
Special Education Master's Degree
Although having a bachelor's degree in special education is often enough to secure employment as a special education teacher, some states require for their special education teaching professionals to have a master's degree. The master's degree program can take students anywhere from a year to 18 months to complete. Students that enroll in a master's degree in special education program will focus on developmental behavior, psychology analysis and educating disabled students.
The master's degree program is where teaching students can choose a specialization to focus on. One common specialization area includes working with students with advanced level disabilities. Graduate students can also choose to pursue other requirements to earn their license in the field.
Here is a brief look at some of the courses master's degree students can expect to take:
Educating Students with Similar Disabilities: It is not uncommon for special education teachers to have classrooms filled with students who have certain disabilities, such as ADD/ADHD and Autism Spectrum Disorders (ASD). Educators learn to teach effectively by addressing many of the challenges and issues their students face so they can tailor their teaching style to enhance their students learning abilities.
Field-Based Research: Potential educators have to complete a certain amount of time in the classroom developing and fine-tuning their teaching strategies. During this time, graduate students must keep track of their hours, conduct research and put together a research project that enables them to satisfy their capstone requirement.
Some states mandate that special education teaching professionals have a special education license before allowing them to teach. The time frame to complete licensing requirements vary from state to state, and are dependent on the enrollment status and learning styles of potential special education teachers. Many colleges and universities offer students field experience opportunities, where they can practice and develop their teaching skills while teaching special education students. Some special education teaching students who hold a bachelor's degree may need to complete a certification program in order to gain the field experience they need.
Special Education Jobs
Upon graduation, special education teachers face a steady growing job market. The outlook for the special education field is not as robust as many other fields in the economy. According to the United States Bureau of Labor Statistics, the field is only expected to grow by six percent by 2022. However, there are many lucrative and rewarding teaching opportunities available, and a special education teacher salary may be competitive. Graduates should polish their cover letters and resumes, meet with career placement professionals and fine-tune their social media profiles. They should also visit the United States Department of Education's website to gain access to valuable special education job finding resources.
Professionals that are persistent, resourceful and willing to take advantage of the career placement resources colleges and universities offer, can improve their chances of finding and securing gainful employment in the field.