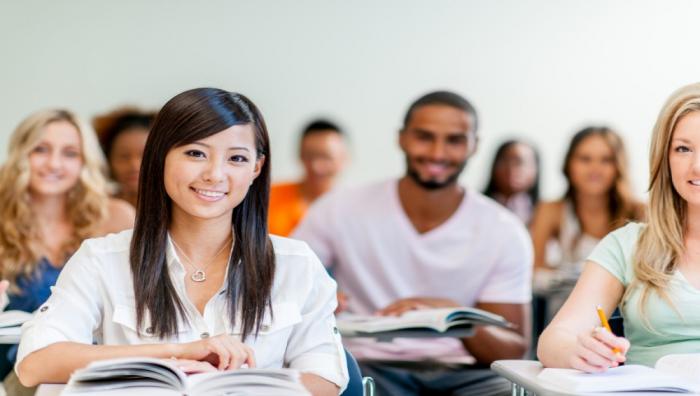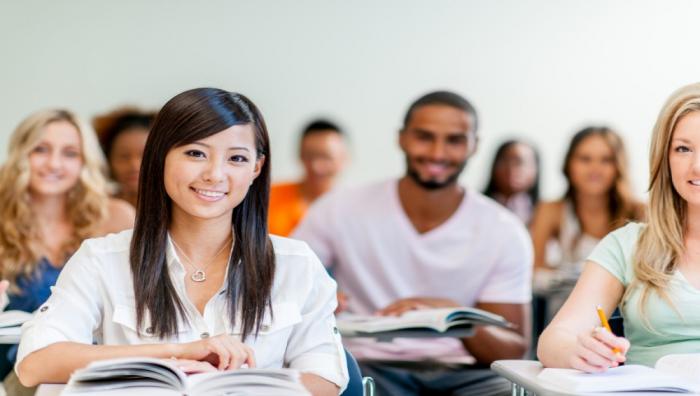 Secondary Education Degree Programs
Many people who are passionate about their subject area and enjoy working with children and adolescents choose to become teachers. Elementary school teachers generally instruct the same class in all or most of their subjects. However, at the middle school and high school level subjects become more advanced. Students no longer take the same classes, but choose a schedule based on their interests, goals and abilities. Because a higher degree of knowledge is required, teachers at these levels specialize in one or a few domains instead of offering instruction in all subjects across the curriculum.
%%linkad1%%
Teacher Requirements
A secondary education teacher is qualified to deliver instruction in a specific subject to students in grades six through twelve. They may be responsible for a number of tasks, including:
Evaluating curriculum
Developing and delivering lesson plans
Creating and administering tests and assignments
Evaluating student achievement and mastery of content
Keeping detailed records of assignments, tests and grades
Maintaining classroom discipline
Communicating with parents
Collaborating with administrators and other teachers
Supervising clubs and extracurricular activities
Coordinating field trips
Attending staff meetings and in-service training
Maintaining licensure
A secondary education teacher should have a passion and enthusiasm for the subject they teach and should be able to share that passion with their students. They should enjoy working with young people and have a talent for inspiring their interest in a subject. To be successful they should be adept at motivating adolescents to achieve their potential.
Secondary Education Programs
Public school teachers in every state are required to have a license or state certification in order to teach. Most private schools require certification as well. Specific requirements vary from state to state, but most require a minimum of a bachelor's degree from an accredited program. In some states teachers must also pass a competency test and complete a student teaching internship. Many applicants choose to complete a bachelor's degree in teacher education. Others decide to teach after they have completed their undergraduate education in another field. These students must complete an alternative path to licensure. All secondary education teachers should plan to participate in regular professional development as one of the requirements of maintaining an active license.
Bachelor's Degree in Secondary Education – A bachelor's degree typically takes about four years to complete. Students in a bachelor's level education program may be required to complete a number of general education classes before focusing on their chosen field. They may also complete classes in teacher education techniques and theory as well as coursework specific to the subject they have chosen to specialize in. Specialties may include math, science, literature, music, social studies, foreign languages, art and physical education. Most students will also complete a semester of student teaching at a local school before graduating.
Master's Degree in Secondary Education – Students who have completed a bachelor's degree in education or a related field may choose to earn a master's degree in secondary education. This may enable them to complete licensure requirements if they did not major in education for their undergraduate degree. For participants who are already licensed, it may be a means of earning an increased salary or moving into a leadership or administrative role. A master's degree typically takes about two years to complete and may include a period of student teaching or working with a principal or administrator.
Alternative Teacher Certification in Secondary Education – Students who have completed a bachelor's degree in a field outside of education may be able to become certified by taking education courses and passing relevant exams, particularly if their undergraduate degree is in a typical school subject such as mathematics, music, psychology or art. This type of program may take only a year or two to complete.
Secondary Education Courses
Courses in a secondary education program satisfy two main requirements. Teachers must be proficient in the subject they intend to teach. Many classes focus on domain-specific knowledge and strategies for teaching a specific subject. Other classes are designed to prepare teachers in any subject area to deliver instruction, manage a classroom and help students to succeed. Classes for secondary teachers may include:
Foundations of Education
Education and Social Issues
Classroom Management
Adolescent Growth and Development
Psychology in Teaching
Learning and Assessment
Content Area Literacy
Critical Thinking and Education
Educational Technology
Careers in Secondary Education
Most graduates of a secondary education program will become full- or part-time teachers. They may teach at a middle school or high school, and may work with students in a single grade or students of various ages. They may find work in a public, charter or magnet school. They may be employed by a private institution or an online school. They will typically teach only the subjects that their degree major certifies them for, although some schools will ask a teacher to teach another subject temporarily or gain additional credentials that allow them to teach multiple subjects. A secondary education teacher's classes may include:
Mathematics – This can include basic and advanced classes across the field of mathematics, including geometry, algebra, trigonometry and calculus.
History – Classes may focus on local, national or world history and are generally limited to a specific time period.
Literature – Students may learn about American, British or world literature and classes may be specific to a time period, genre or movement.
Art – Classes may include art history as well as instruction in a variety of artistic styles and mediums, including drawing, painting and sculpture.
Science – Courses may cover beginning or advanced levels of biology, chemistry, geology, physics, astronomy and other scientific fields.
Physical Education – Teachers may introduce students to various types of exercises and sports including volleyball, softball, basketball and even yoga.
Foreign Languages – This may include beginner, intermediate and advanced levels of Spanish, French, German, Chinese, Russian or another foreign language.
Music – Depending on the school and its resources, classes may include band, choir, guitar, piano, drumming and general music education.
Job Outlook for Secondary Teachers
Secondary education teachers can find work anywhere with a secondary school. According to the U.S. Bureau of Labor Statistics the job market is expected to grow at about the same rate as for other professions. More jobs may be available in the West and South, where student enrollment is growing. A study conducted by The American Association for Employment in Education concluded that science, math and bilingual education teachers are in the greatest demand, and that there may be a surplus of health, social studies and physical education teachers.
Teacher salaries vary by state and district, and are influenced by a teacher's years of experience and degree of education. Reports by the Bureau for Labor Statistics show that the median annual salary for secondary education teachers in 2008 ranged from $47,000 to $51,000. The lowest annual salaries were around $31,000, while the highest were between $75,000 and $80,000. Prospective teachers should also factor in the cost of living in a particular location before choosing a position.
Teachers at private schools can expect to earn smaller salaries than average, although some institutions pay more hoping to attract high quality teachers. Positions in these institutions are very competitive. Many secondary school teachers choose to supplement their income by tutoring, supervising or coaching extracurricular activities, teaching summer school courses or moving into administration. Some increase their salary potential by completing advanced certification such as a master's degree in education.
Secondary Education Trends
There are a number of growing trends in the field of education. According to the National Education Association, many middle and high schools are moving to a block schedule. Schools following a traditional schedule will have eight to ten short periods per day. With a block schedule students attend only three or four classes per day. Class periods are much longer, often up to 90 minutes for each period, and may be scheduled on alternating days. In other block models classes may be held every day for a number of weeks, allowing student to complete a course more quickly. Because classes in a block schedule are longer each day but are completed in a reduced number of days, teachers must tailor their lessons and instruction accordingly.
The ratio of students to teachers has also changed over the last several years. This trend may affect the structure of the classroom and teacher discipline strategies. Statistics from the National Center for Education show that the average number of students per teacher in public schools was just 15.5 in 2007.
The growing focus on STEM (science, technology, engineering and math) education may also impact teachers of many subjects. Schools may encourage their teachers to incorporate computers and technology into their lesson plans, and graduates of STEM subjects may have an easier time finding employment.
Finding a Secondary Education Program
Many traditional and online schools offer secondary education programs. Traditional schools may require students to complete all their classes on campus, or may offer a hybrid program that combines in-class and online learning. Some schools offer programs entirely online, and students can attend virtual lectures and complete coursework on their own schedule. An additional advantage of online learning is that students do not have to move or live near a university, but can work towards their degree from anywhere in the world.
People who are interested in helping adolescents to achieve personal and academic success may choose to pursue a career in secondary education. Passing on a love of learning can be particularly rewarding. Prospective students should choose a subject that they enjoy and are proficient in and find a program that will enable them to share their knowledge and expertise.