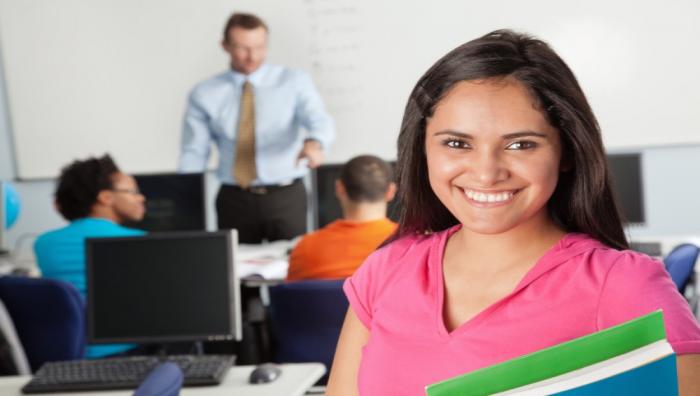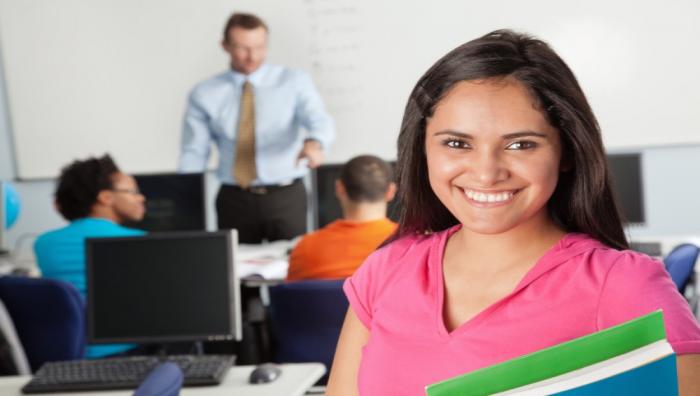 Master's Degree in Education Programs
Individuals who desire to become leaders in education, bolster their teaching skills or advance in their current education careers should strongly consider obtaining a master's degree in education. When looking for programs, one thing to keep in mind is that some schools may only have master's degree programs for students who already have a background or undergraduate degree in teaching or education. Anyone looking to earn an initial teacher license will be better off seeking out an alternative teacher certification program, which is geared towards non-teachers who have bachelor's degree in other subject areas outside of teaching and education.
%%linkad1%%
Different Teaching Degree Options
It's important to note there are two different types of master's degree for teachers. The Master of Arts in Teaching (MAT) degree is designed for initial licensure for teachers and is concentrated on fundamental classroom skills and specific subject areas. Teachers with experience often choose to earn a Master's in Education (M.Ed.) degree, which provides a foundation for filling leadership positions. Often considered the same as an M. Ed. degree are the Master of Science in Education and the Master of Arts in Education.
Students have the option of choosing a concentration area while enrolled in a graduate education program. Such concentration areas include:
Higher education
Curriculum and instruction
Special education
Educational leadership
Early childhood education
Secondary education
Adult learning/Adult education
Usually, a master's degree in education takes anywhere from two to three years to earn, but some programs accelerate the process to 12 to 18 months. Such accelerated programs are often offered online.
No matter the program, a majority of them offer the same coursework, which includes managing classrooms, educational leadership, theories of learning and teaching, educational policy, and school and community partnerships. While looking over program coursework, prospective students should also bear in mind the career forecast, average salary and licensing requirements for their states or the state in which they plan on teaching. Such requirements and career information can vary greatly from one location to another.
Online Master's in Education Degree Programs
A person who is currently involved in a career or teaching position might not have as much time and energy to devote to a traditional master's degree program. Enrolling in a master's in education online degree program is a popular option for busy students, mainly because it allows a student to learn at his or her own pace, save money and not have to compromise as much when it comes to balancing work, school and life.
Before committing to a distance learning program, it's worth noting that some students might not like the fact that online programs may not allow for the same amount of face-to-face interaction with instructors and students as traditional on-campus programs. The decision whether to enroll in an online program is will depend on the students' lifestyle and commitments.
Just like traditional on-campus programs, online master's degree programs for education offer a variety of concentrations. As for the length of distance learning programs, a majority of them usually take about 18 to 24 months to complete, which is equal to roughly 30 credit hours and a research project/portfolio.
Importance of Earning a Master's Degree in Education
The reason it's a good idea to further one's knowledge of the education sector is to become a more efficient teacher, leader or counselor. Education is a field that seems to always be in constant flux, and it's essential that professionals in the field be up-to-date on the latest practices and technologies being used for their professional benefit as well as the benefit of their students.
Another reason it's good to earn an education master's degree is so that one can advance in his or her career, which often leads to an increase in earnings. New roles in an organization might require that applicants have a higher degree of knowledge, and having an advanced degree can improve an individual's chances of attaining those roles.
A third reason to earn an advanced degree is to broaden knowledge. Teachers are often learners and welcome the opportunity to learn more about their concentration area. They may feel more comfortable and confident in their roles knowing they have the knowledge necessary to fully carry out their jobs.
Career Opportunities
Once an individual has earned a graduate-level degree in education, he or she will most likely qualify for a number of new job positions in education leadership. Some of the most popular career areas include:
Adult education
School counseling
School administration
Special education
Common job titles for such positions include:
Guidance counselor
School psychologist
College professor
Principal/Assistant principal
Lecturer
Exploring Program Options
Before deciding on a program, prospective students can use online resources to narrow down their options to specific schools, programs, concentrations and geographic locations. After that, it's best to get in touch with those schools to learn more about the latest information regarding tuition, program length, fees and scholarship opportunities. To avoid taking on more debt than necessary while pursuing a degree, future educators and education leaders should also ask about payment plans and available financial aid.