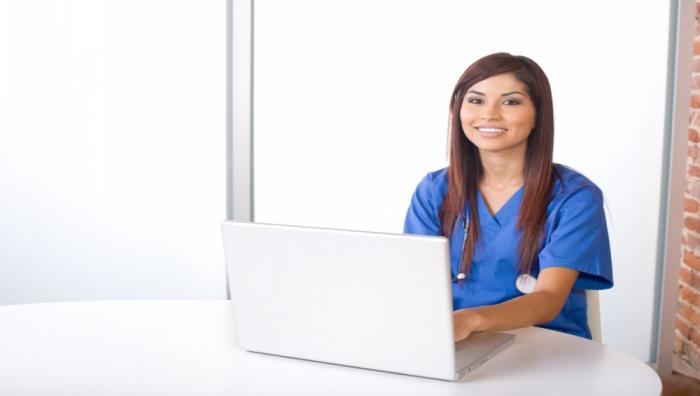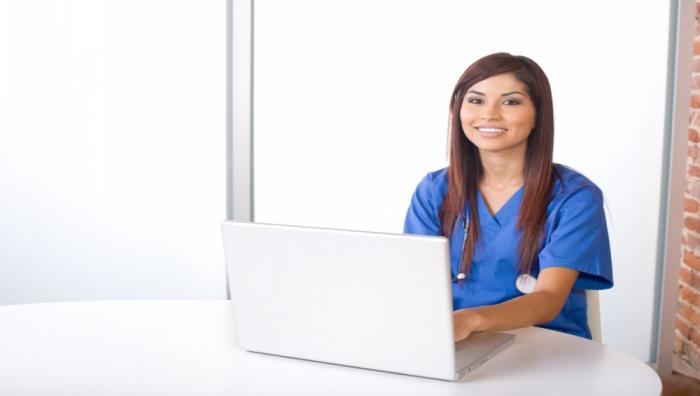 Whether you are a prospective nursing student or a current registered nurse (RN) looking to advance your career, online nursing classes have become more accessible and accepted for prospective students to seek a flexible and inexpensive way to attain additional nursing education. With the growing popularity of nursing careers among healthcare settings, a variety of nursing programs are currently offered by some of the best, accredited schools in the country. However, as students begin to search for online nursing classes, they should first consider the type of degree, program, or education that fits with their current education level, their future career goals, and time-commitment.
Online LPN Programs
For students who desire to enter the healthcare field and gain valuable experience before pursuing advanced nursing careers, becoming a Licensed Practical Nurse (LPN) or Licensed Vocational Nurse (LVN) has proven a reputable path in gaining practical nursing experience and knowledge. In an online LPN program, students receive a valuable introduction into nursing classes online such as:
Anatomy and Physiology
Mental Health Nursing
Pediatric Nursing
Ethics of Nursing
Infection Control and Prevention
Medical Terminology
Overall, these online classes for nursing aim to arm the student with the tools necessary to function efficiently and professionally within most healthcare settings while providing optimal care to their patients.
However, most online LPN programs also include a practical or clinical portion to the degree, requiring students to physically go to their university hospital or other healthcare settings in order to complete clinical practice hours. Graduates in an online LPN program typically work in nursing homes of extended care facilities and, according to the Bureau of Labor Statistics (BLS), may expect a positive job outlook of a 16% job increase from 2014-2024 and an average median pay of $42,490 per year.
Online Bridge Nursing Programs
Once LPN graduates decide they want to advance their nursing careers, an online "bridge" nursing program may serve to connect the previous knowledge and experience of an LPN to future careers as Registered Nurses (RNs) or earning a Bachelor of Science in Nursing (BSN). A "bridge" program essentially serves as a specialized online program that offers more advanced classes for nursing, and, as a result, allows the nursing to student to work in diverse healthcare settings such as general hospitals and private practices and with higher degrees of responsibility. Generally, bridge programs offer courses such as advanced anatomy and physiology, patient care, and medication administration; however, depending on the level of nursing the student decides to pursue (RN vs. BSN), the amount and intensity of the courses vary. The main benefit of a bridge program is that, along with experience and an LPN certification, it aims to reduce the amount of repetitive coursework a student may face and could allow students to bypass certain courses.
Students receiving their Registered Nursing (RN) license through an LPN to RN bridge program take online classes for nursing that cater more to patient care, nursing administration, and nursing procedures. Like online LPN programs, online bridge programs require students to complete a certain number of clinical hours to complete their degree and gain experience for their new responsibilities. Furthermore, LPN to RN bridge programs focus heavily on preparing the student for the NCLEX-RN certification exam; the exam necessary to receive an RN license to practice. Bridge program graduates typically receive an Associate's degree in nursing along with their RN license (if they pass their NCLEX-RN exam), and according to the Bureau of Labor Statistics, could expect a job outlook of a 16% job increase from 2014-2024 and a median salary of $66,640 per year.
For students interested in taking more online nursing classes and enrolling in a more advanced nursing program, an LPN to BSN program provides the student with more nursing skills, an RN certification, and a Bachelor of Science in Nursing (BSN) degree. A BSN takes approximately 4 years to complete and requires more nursing classes in specialized nursing fields. However, previous experience as an LPN may reduce the total amount of time that a student needs to finish their degree. Typically, LPN to BSN bridge programs use the first 2 years of the program to help the student acquire RN certification and teach general courses such as English, writing, or foreign language. The remainder of the degree program focuses on teaching students more practical skills in nursing and expects students to gain experience through clinical hours as RNs. Since BSNs take more time to complete than other programs, LPN to BSN graduates may be more likely to be hired, are given more responsibilities, and could earn a higher salary. Depending on the experience and promotions that BSN graduates receive, the salary of an RN with a BSN degree can range from $59,000-$87,000. Lastly, BSN graduates could return to school to earn a Master of Science in Nursing (MSN) and specialize in fields of nursing such as Family Nurse Practitioners (FNPs), Midwifery, or Nurse Anesthetist.
Overall, the amount of classes to take for nursing will depend on the degree being pursued or career a student wants to pursue in a healthcare setting. Online nursing classes provide students with the flexibility to finish their coursework at their own pace and to continue gaining valuable experience in patient care. Ultimately, these online classes for nursing prepare the student to give their patients the best quality of care possible in each healthcare setting.