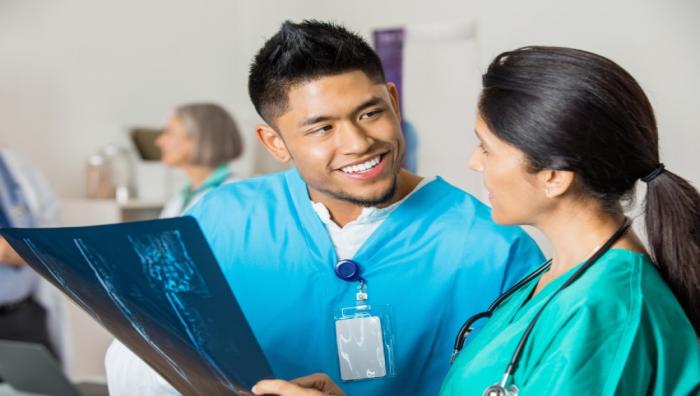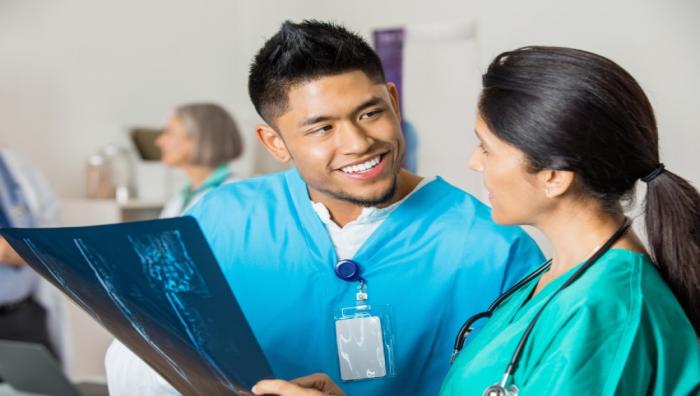 While licensed practical and licensed vocational nurses have different titles, their overall job roles are quite similar. Licensed vocational nurses (LVNs) are only found in California and Texas, and their job description includes dressing wounds, feeding newborns and a variety of other everyday medical tasks. Licensed practical nurses (LPNs) are trained to work in several areas of healthcare, but they do have the option of focusing on a specific medical area.
Nurses who have jobs with LPN degree requirements are often found working in the homes of patients, physician offices, hospitals and nursing homes. Overall job duties are dependent on the work environment, and can include administrative tasks and providing patients with emergency care.
%%linkad1%%
Additional Job Duties
The main objective for careers with LPN degree qualifications is to offer patients with fundamental medical care alongside doctors and registered nurses. Standard job functions include:
Measuring vital signs
Keeping patient histories up-to-date and accurate
Bathing and dressing patients as required
Taking care of newborns
Informing registered nurses and physicians of patient statuses
Aiding nurses and doctors with medical procedures and tests
Licensed practical nurse jobs usually require medication monitoring, starting IV drips and taking care of medical equipment. Depending on the state in which a nurse is employed, there might be limits on the job duties she or he can perform and the level of supervision required. To prepare for job duties, licensed practical nursing students are often instructed on emergency care and pediatric nursing.
Education and Professional Requirements
What's unique about licensed practical nurses is they don't have to have a bachelor's degree in order to qualify for job positions, but they do need some type of formal education. Training programs often take about a year to complete, but there are some that take either less time or more. Those interested in becoming LPNs will most likely find training programs at trade schools, community colleges and vocational colleges. These institutions might also offer online programs, in addition to traditional on-campus programs. With either program, it's often beneficial that students make sure they receive hands-on clinical work and that they complete training at a state board of nursing-accredited school.
Another point in licensed practical nurse career information is the fact that LPNs can enroll in special bridge programs that help them to become registered nurses or attain a Bachelor of Science in Nursing degree. Graduates of these special programs must successfully pass the National Council Licensure Examination (NCLEX-RN) to qualify for jobs. Each state has its own unique certification requirements.
Examples of LPN Courses
While completing an LPN program, students might learn the fundamentals of pre- and post-operational nursing care along with physiology, anatomy, pharmacology and nutrition. Programs that include a course on caring for clients with healthcare deviations usually instruct future LPNs on clinical work, nursing intervention and the mental faces of taking care of disabled patients.
Another course commonly included on the LPN curriculum is advanced client care. The class gives students an education on pediatrics, obstetrics and mental health. Programs might also provide licensing preparation and offer a review of the entire program curriculum.
No matter which program an individual chooses, it's best that it's officially accredited by either the Accreditation Commission for Education in Nursing or the Commission of Collegiate Nursing Education. While non-accredited programs can prepare students for certification, they may not qualify students for future admittance to advanced programs.
Cost of Attaining an LPN Education
As of 2015, the starting cost of LPN programs is usually around $2,000. Students might qualify for financial aid to help pay for the program. LPNs who decide to advance and become registered nurses will more than likely be able to receive credit for their LPN education, which can reduce the amount of time necessary to earn a bachelor's degree. There are also some schools that give students the ability to opt out of classes, which depends on prior work experience.
Career Paths Available to LPNs
Those who enjoy a fast-paced environment may be comfortable working in a hospital in operating rooms, maternity wards and emergency rooms. Hospitals are also usually good work environments for LPNs looking to further their education by taking on more advanced job duties.
LPNs are also employed in slower and quieter physician offices where they help patients prior to examinations, aid in surgeries, give medications and schedule appointments. Nursing facilities are also ideal for those who prefer a more sedate work setting. Practical nurses in nursing facilities help disabled and long-term care patients while monitoring patient health, carrying out fundamental nursing duties and taking care of basic administrative tasks.
Similar to nursing facilities, home health care services give LPNs the opportunity to help patients in the comfort of their own homes and inform family members on how to take care of their elderly or disabled loved ones.
Military nursing is yet another work environment available to LPNs with a patriotic spirit and a desire to serve their country. Students of military nursing programs are taught how to be medics, but an individual who is a civilian can also apply at a military clinic or hospital. One of the advantages of choosing to become a military nurse is being eligible for tuition reimbursement and a number of other education benefits.
Those who enjoy traveling may prefer the life of a travel nurse. Traveling LPNs complete short-term assignments at out-of-the-way locations and are provided with housing while completing assignments, in addition to receiving expense coverage. Nurses can also receive assistance with licensing, and there's also a chance the position might have a higher salary than other LPN work settings. Traveling nurses are often dispatched during emergencies and to locations where there is a shortage of nurses.