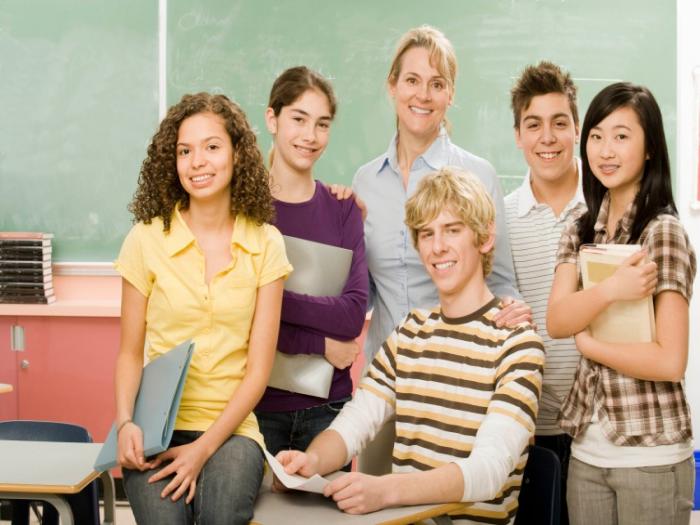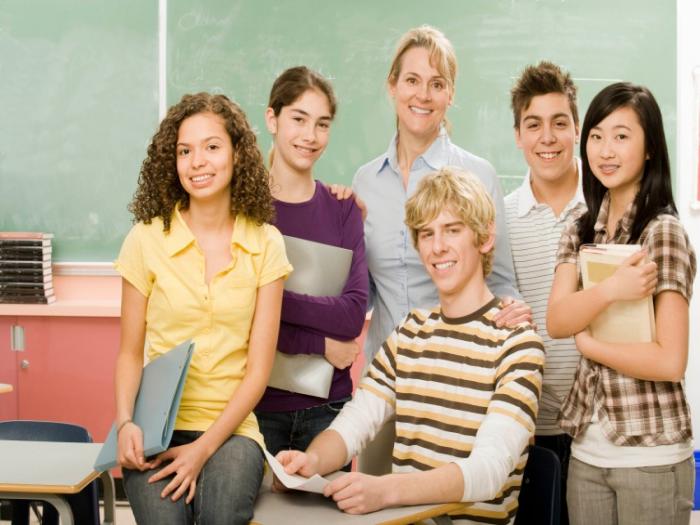 Secondary Teacher Jobs and Programs
Men and women who have a passion for a particular field of study and enjoy working with adolescents may choose to pursue secondary teaching jobs. A secondary school teacher typically works with middle or high school students from grades six through twelve. Unlike elementary school teachers, a secondary teacher does not instruct a single class in all subject areas, but instead will specialize in one or two subjects. They will see many students throughout the day as they teach anywhere from four to ten class periods. A teacher must be prepared to work with a diverse cohort of students and appeal to a variety of learning styles. They may teach a number of different classes and levels within their chosen subject. Secondary teaching careers can be rewarding as well as challenging.
%%linkad1%%
Secondary Teaching Programs
In order to teach in a public middle or high school, a candidate must meet certain requirements. Although the specific criteria vary from state to state, most follow the same basic pattern. A teacher must have at least a bachelor's degree in the subject they intend to teach. Most must pass a standardized teaching exam such as the Praxis. They must also fulfill the requirements to qualify for a license and pass a background check. Many traditional and online schools offer secondary education programs, including:
Bachelor's Degree – Many students choose to complete an undergraduate degree in teaching. They will choose a specific subject, such as history, literature, math or science. The program usually includes several general education classes, advanced classes specific to the chosen field and a variety of teacher education classes. Most students will complete a semester of student teaching before they complete their program. This gives them the opportunity to gain valuable experience while working with a mentor who can guide them through challenges.
Master's Degree – Students who have completed a non-teaching undergraduate degree may choose to return to school in order to obtain a teaching license. Classes usually focus on teacher education and include a semester for student teaching. Some practicing teachers choose to earn a master's degree in order to increase their earning potential or to move into positions of leadership and administration.
Alternative Path to Licensure – Prospective teachers who already have a bachelor's degree related to the subject they wish to teach may also have the option of pursuing licensure without earning a master's degree. In this type of program the candidate will take a variety of education classes to supplement their undergraduate degree. Some teachers are able to complete this type of program concurrent with their first few semesters as a working teacher.
Teacher Education Classes
Secondary teaching jobs require two types of knowledge. A teacher must be an expert in the subject they have chosen to teach. They must also understand the principles of effective teaching. Common secondary education subjects include:
English: Literature, Grammar, Writing, Journalism
Mathematics: Geometry, Algebra, Trigonometry, Calculus
Science: Geology, Biology, Chemistry, Physics
Social Sciences: History, Government, Economics, Citizenship
Foreign Language: Spanish, French, German, Russian, Chinese
Technology: Electronics, Computers, Keyboarding, Graphic Design, Coding
Physical Education: Sports, Dance, Exercise Science, Health, Nutrition
Performing Arts: Theater, Film, Media Studies
Art: Drawing, Painting, Sculpting, Art History
Music: Band, Choir, Piano, Guitar
Once a prospective teacher has become proficient in the subject they wish to teach, they must learn how to prepare and present lessons, evaluate student work and maintain classroom discipline. Teacher education courses may include:
Introduction to Secondary Education: This course may introduce students to a variety of teaching methods and pedagogies. Students might discuss potential benefits and drawbacks of each theory, and may plan and present mini-lessons to their classmates.
Content Area Literacy: Although literacy is primarily the domain of an English teacher, most subjects require some amount of reading. This type of course encourages teachers to identify the skills that can help a student to navigate the types of texts specific to their subject area.
Classroom Management: Organization and discipline are essential to keeping a class in working order. A management class can help teachers to implement processes for keeping track of paperwork, assignments and grades. It can also prepare teachers to handle challenging student behaviors.
Qualities of a Successful Teacher
Academic preparation is not the only requirement for a successful teaching career. The best teachers have an affinity for adolescents and are able to challenge them while maintaining their respect. A good teacher should be:
Approachable: Adolescence is a tumultuous time, and students should feel comfortable coming to a teacher with academic and personal concerns. The classroom should be seen as a safe environment where the student will not face ridicule from his teacher or his peers.
Fair and Unbiased: Although most students in a secondary education program readily agree that it is important to be fair as a teacher, some have difficulty once they are in an actual classroom. It is normal to have a particular affinity for a certain type of student, and to feel challenged by others, but teachers must work to overcome their biases and ensure that they hold all students to the same behavioral and academic standards.
Motivating: A good teacher knows how to catch a student's interest and motivate them to overcome the challenges of a particular subject in order to enjoy the rewards of mastery. They should encourage students to set goals and support them in achieving those goals. Secondary school is an important time for students, as they are beginning to make plans for college and a career. Many adults credit an influential teacher for setting them on their chosen path in life and giving them the confidence and skills to succeed.
Secondary School Teacher Salary and Careers
Men and women who possess the right disposition and academic credentials to pursue secondary teaching jobs can find many opportunities. Most traditional and online schools have a department that can assist recent graduates in finding available positions in their area. Recent graduates can also gain contacts and experience by working as substitute teachers while they search for full-time employment. Salaries for secondary teachers will vary by location and experience.
Teaching adolescents can be demanding, but it can also be very rewarding. Most teachers are enthusiastic about the subject they teach and enjoy passing their knowledge along. Adolescence is a pivotal time in life, and a good teacher can help students through the challenges and motivate them to pursue and achieve ambitious goals and dreams.